Water accounting is the foundation of good water management. That's why we built TAPP H2O. TAPP H2O helps growers manage their allocations and avoid overages. TAPP H2O Enterprise helps water managers with water accounting and data management.
Fair and hassle-free water trading. Our smart markets provide a central hub to buy and sell water. We automatically match parties by price point and regulatory constraints. Our water markets are more affordable, accessible, and equitable.
We teach about water markets through interactive demos, which get your audience bartering for water. We also provide consulting services on water market design (e.g. through WaterSMART Water Marketing grants).
Water management,
supercharged.
Save time and money with one-touch water tracking. TAPP H2O's water monitoring helps you save energy costs, prevent allocation overages, and diagnose pump and pivot malfunctions.
Performance-driven
analytics
Peer benchmarking and water performance metrics are automated to drive stewardship and conservation goals for growers, water managers, and corporations alike.
Whether you're a buyer or a seller, water trading has never been simpler. Our smart markets consider price points and basin-specific regulations to find you the best match.
Automated
regulatory compliance
From water use reports to water trades, we'll handle the paperwork for you, saving you time and keeping you compliant with water regulations.
How we help manage water for…
Ditch the field notebook! Modernize your water tracking process with TAPP H2O.
TAPP H2O is proven to reduce the amount of time you spend managing water allocations and compliance paperwork. It's helped growers like you gain an accurate, on-demand picture of water usage. Plus, monitor meter malfunctions and key water performance indicators. With TAPP H2O, you'll increase the value and longevity of your business' most important asset: water.
TAPP H2O Enterprise is a one-stop shop for water management. District employees collect field data, manage complex water data, and track compliance.
Reduce those paper records and the hours of data entry. We'll help digitize your workflow from the start, reducing the time and errors in building your organization's database. Turn this database into a workhorse for you: track program performance, regulatory compliance, and submit regulatory reporting seamlessly.
Water is a central input to your business, and it should be treated like one.
Monitor your progress against corporate sustainability metrics, flag performance gaps, detect water risks in your supply chain, and identify low-hanging fruit for improvement. We'll work with you to recruit and enroll growers in your supply chain so that you can incentivize and catalyze water savings from the ground up. It's not just good marketing. It's good business.
The smarter, simpler way to track water. Plus, benchmark irrigation performance, submit regulatory documentation, and trade allocations–all with the tap of a button*.
*Features supported only where allowed
Leverage insights, improve efficiency.
See how much water has been used and what's left
Monitor meter malfunctions for rapid repairs
Leverage water performance insights to save water and money
The best solution for water management
The only solution that automatically files water use reports, water transfer or trading documentation, and compliance paperwork.
Built for growers, approved by regulators
Engage with water data, reduce energy costs, prevent allocation overages, and diagnose equipment malfunctions
Use with any meter, any time, all with the tap of a button–no new hardware required!
"Producers in GMD4 are required to check their meters no less than once every two weeks during the irrigation season and keep a log in case the meter malfunctions. TAPP H2O enables them to do that with no effort and sends alerts if the meter is not working. It also shows when a producer is close to exceeding their water limitations to avoid hefty penalties. They've helped correct water use reporting errors as well. TAPP H2O stood out from other options: it's low-cost and had all the features we needed. Customer service is speedy and a joy to work with. They are constantly seeking ways to improve their product. The producers that use absolutely love it! "

Shannon Kenyon, General Manager, Northwest Kansas Groundwater Management District #4 (GMD4)
"Sign up for TAPP H2O! It's simple and easy to use and will make you way more aware of your water use than you ever have been. Mammoth Water is very hands-on. They're willing to improve the product and make sure it is providing customers with everything they need. TAPP H2O quickly catches when meters go down. All our employees can use it. The app is very user friendly and the support from the TAPP Team is great. They are updating TAPP H2O and improving the dashboard constantly. Our GMD board has been looking for any and all ways to help our growers record water data and become more aware of their water meters. TAPP H2O was a no-brainer."

Brent Rogers, Kansas producer + GMD4 board member
"After seeing Mammoth Water's excellent water markets demonstration at Stockholm World Water Week a few years ago, I have asked her to lead a similar demonstration on multiple occasions for my students at the University of Virginia. The demonstration brings to life for them the concepts and theories they've been reading about in books and journal papers. The role-playing involved in the demo is a fun and creative way to deepen their understanding of how different trading rules can strongly influence the outcomes for both buyers and sellers."

Brian Richter, Sustainable Waters
"It used to be a struggle to keep accurate water use records. TAPP H2O has been a game-changer. It is an awesome service and worth the money. Mammoth Water's staff is very helpful. I love this app and will definitely be doing it again!"

Steve, Kansas producer
"Water is our most precious resource and we are in jeopardy of losing it. TAPP H2O tracks our usage and provides insights on where we can manage better. TAPP H2O has also saved me tons of time. It's a win-win."

Gennifer Golden House, Kansas landowner
"Tools like this cement our partnerships with landowners, providing them with crucial data about their water use to aid in their managing under our regulations."

John Berge, General Manager, North Platte NRD
"Before TAPP H2O, tracking water use was like a wagon with square wheels. Now I have an easy way to document usage through the season. It's simple and straightforward with great customer support. Great company to work with!"

Todd, Kansas producer
"TAPP H2O is about the easiest meter recording app you can find and helps you stay in compliance with your water rights. The updates you get are a great way of monitoring your water use. Mammoth Water listens to suggestions and constantly improves their product."

Shane Mann, Kansas producer + GMD4 board member
"Richael isn't just a programmer looking to sell an app. She understands agriculture and the significance of being a good steward of our water resource. You cannot make good decisions without being properly informed. TAPP H2O makes collecting and translating water use data easy, even for multi-year and complicated groundwater allocations."

Nate Emig, Kansas producer + GMD4 board member
Subscriptions to TAPP H2O on 120,000 irrigated acres
Irrigated acres covered under our hassle-free smart markets
Professionals trained on water markets at 40+ interactive workshops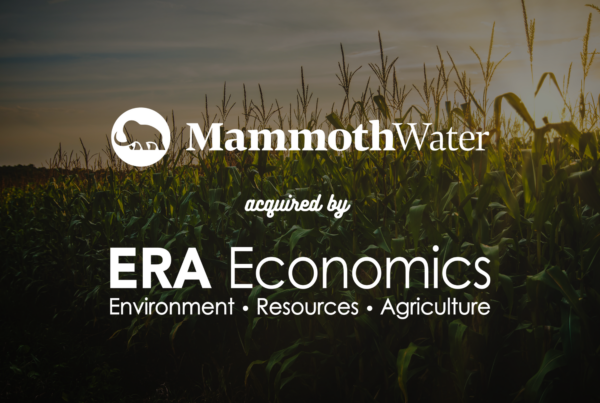 We are delighted to announce that Mammoth Water was acquired by ERA Economics, and join a team that ours at Mammoth has long admired. The acquisition emerged organically out of…
Is your region water-market ready? Together with the Daugherty Water for Food Global Institute, we built a scoping tool to help you answer your water market readiness based on five…
Get in touch and find out how we can help you manage water for a smarter future.